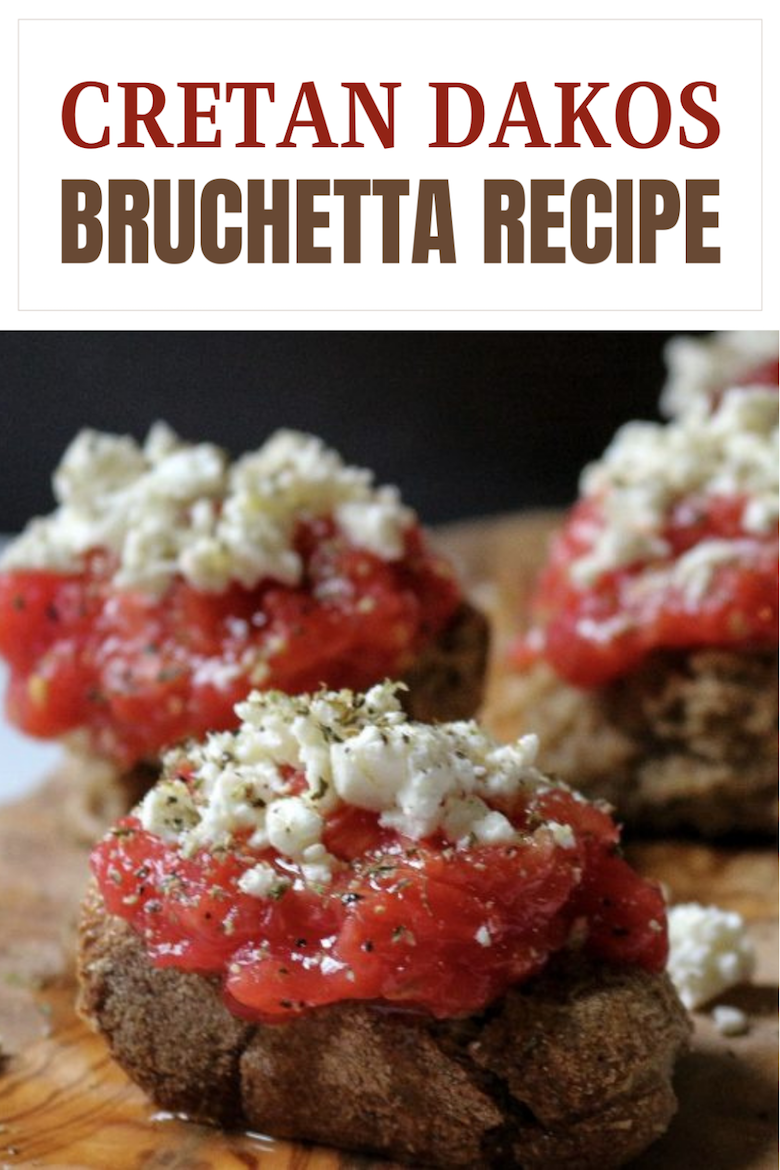 The easiest appetizer for a get together, or just your family! This Bruschetta Recipe – Cretan Dakos is so simple to make, and so satisfying!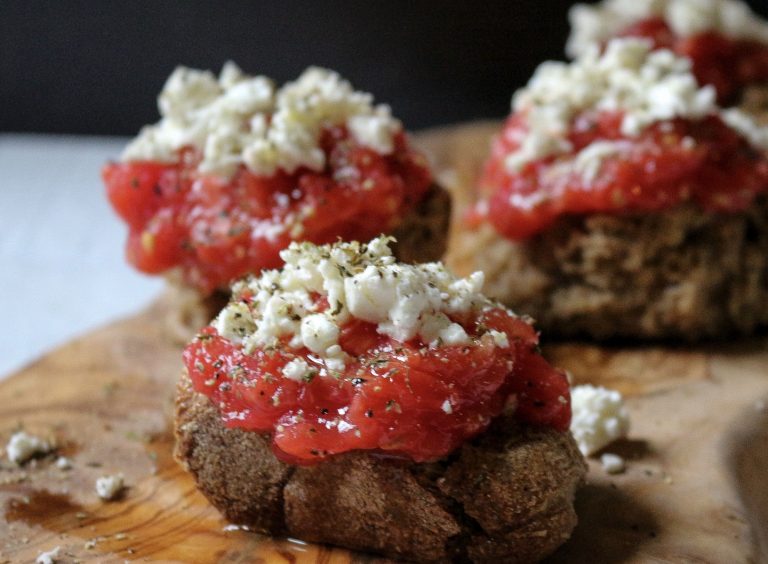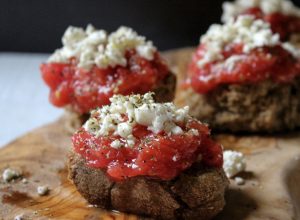 From Lizz: My earliest memory of Dakos is visiting my grandmother in Crete and her making us a variation of this dish with fresh, out of the oven bread, topped with cut up vine ripened tomatoes, extra virgin olive oil (pressed from our family's olive trees), fresh feta cheese and dry Greek oregano. The first bite of that deliciousness is literally etched in my memory. The pure joy of being with my extended family that summer, the warmth of the Mediterranean sun, the fresh ocean breeze and those amazing flavors bursting in my mouth.
Traditional Cretan Dakos uses Barley Rusks. The ancient name for rusks was dipyritis artos, or "twice-baked bread."
Barley Rusks have been a staple of the Greek diet for thousands of years, before refrigeration or preservatives were available. It was a way of keeping bread for as long as possible when needed. The low moisture content of Barley Rusks eliminates the risk of spoilage, and therefore rusks don't contain any preservatives.
Traditional Greek Rusks are made with barley, which happens to grow better in the Greek climate and also contains less gluten than wheat.
Barley Rusks are a good source of vitamin B complex, selenium (assists with cognitive function and fertility), potassium, calcium, phosphorus, silicon (to help rebuild and protect bones), chromium (for better control of glucose levels in diabetics) and dietary fiber (especially beta-glucan, linked to lower cholesterol). Barley Rusks also aid in better intestinal and liver function and help reduce cellulitis.
HOW TO MAKE OUR BRUSCHETTA RECIPE – CRETAN DAKOS
Grate the vine ripened tomatoes.




Strain all the tomato juices until all that is left is a thick tomato pulp. Use a small spoon to help press the tomato juices through the small sieve.




Quick dip the barley rusks in water. Quick is key here so you don't end up with soggy rusks!




Pour some extra virgin olive oil over the barley rusks.



Top the barley rusks with the grated tomato, salt and pepper to taste, crumbled feta cheese, a sprinkling of dry Greek oregano in that order. Finally top off with some more extra virgin olive oil.

WHERE WOULD I FIND BARLEY RUSKS?
You can easily purchase Barely Rusks on Amazon here and I will tell you it is well worth it. Barley Rusks are not easily available in the United States unless you are lucky enough to live near an International Store. They are flavorful, filling and healthy to eat. Alternatively, you can use any barley or whole wheat bread, cut into 1 inch slides and slow bake them in a 120-130 degree oven for at least 3 hours. You can make a loaf and store them for up to 6 months.
IS IT IMPORTANT TO USE VINE RIPENED TOMATOES?
The combination of flavors for this simple dish really come through best when you use vine ripened tomatoes.
HOW LONG SHOULD I DIP THE RUSKS IN WATER FOR?
Do not let the rusks soak up too much water or they will get soft and mushy. The purpose of the "quick dip" is to help soften them just enough so that they can also absorb the extra virgin olive oil and make them easier to eat.
CAN I ADD OTHER TOPPINGS?
Other toppings you can add are some finely grated red onion and chopped Kalamata olives.
Bruschetta Recipe – Cretan Dakos
Bruschetta Recipe - Cretan Dakos
Ingredients
4

medium

vine ripened tomatoes

4

barley rusks

6

tbsp

extra virgin olive oil

4

oz

feta cheese, crumbled

1/4

tsp

Greek oregano

salt and pepper to taste
Instructions
Grate the 4 medium vine ripened tomatoes.

Strain all the tomato juices until all that is left is a thick tomato pulp. Use a small spoon to help press the tomato juices through the small sieve.

Quick dip the barley rusks in water. Quick is key here so you don't end up with soggy rusks!

Pour 1 tbsp extra virgin olive oil over each of the barley rusks and set on a serving dish.

Top each barley rusk with some of the grated tomato, salt and pepper to taste, crumbled feta cheese, and a sprinkling of dried Greek oregano in that order. Finally top off with the remaining 2 tbsp of the extra virgin olive oil. (We always use a little extra olive oil!)