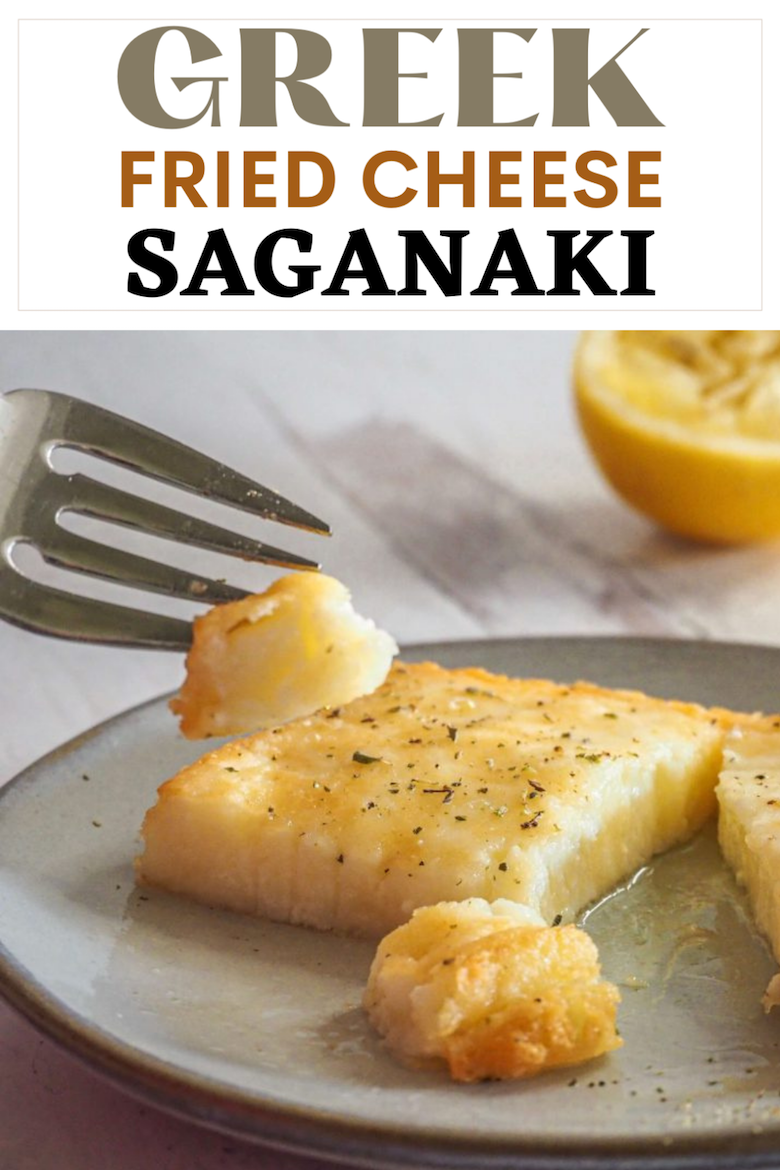 Have you ever been to a Greek restaurant or a Greek festival in the United States where they serve the flaming cheese dish and shout OPA!? This is it! Well without the flame and the OPA!…But don't worry, the taste is just as good!
From Stephanie: When my mom told me she wanted to make Greek Fried Cheese – Saganaki, I was so excited! "You mean the kind they light on fire in the restaurant?!" She just looked at me and rolled her eyes, "Stephanie, that's an American thing". And here I was ready to bring out the Ouzo…
Kasseri has always been one of my favorite cheeses. It's pungent and salty, yet a little sweet as well. Which makes it so delicious when fried! It's also made from sheep's and goat's milk for all you lactose intolerant folks like me. Goodbye tummy aches, and hello cheesy goodness!
When you serve this appetizer with some french bread and a shot of Ouzo, you will definitely shout out OPA!
Kali Orexi!
HOW TO MAKE GREEK FRIED CHEESE – SAGANAKI RECIPE
We use Mt Vikos Kasseri Cheese. The cheese should be around 1 inch thick.

Prepare water and flour in shallow dishes. Dip the Kasseri cheese in the water.

Dredge the cheese in the flour. Heat vegetable oil in a cast iron pan. There should be enough to cover the bottom of the pan. Be sure to heat the oil well but not to the point where it is smoking. Place cheese in the hot oil, and fry for 2-3 minutes on each side get a golden color.

Remove the Saganaki from the hot oil, add some fresh lemon juice and some dried Greek oregano and enjoy!

WHERE CAN I BUY KASSERI? IF I CAN'T FIND IT, CAN I USE A DIFFERENT CHEESE?
Kasseri is one of the easier to find Greek cheeses. You can easily find Kasseri at Whole Foods. Other Greek cheeses that work well for this appetizer are graviera, kefalograviera, kefalotyri. They soften up just enough when fried so that they absorb the fresh lemon juice. you can't find any of these cheeses, you can use Romano as well.
HOW DO I ENSURE MY SAGANAKI IS PROPERLY FRIED?
Oil temperature is key! Make sure that your oil is hot enough, otherwise the cheese will not fry properly.
Greek Fried Cheese – Saganaki Recipe
Greek Fried Cheese – Saganaki
Ingredients
6

oz

Kasseri

2

tbsp

vegetable oil

flour, for dredging

1

lemon

quartered for squeezing over Saganaki cheese

Greek Oregano

to garnish Saganaki
Instructions
Prepare two shallow dishes; one with water, and the other with flour for dredging.

Dip the Kasseri cheese in the water.

Dredge the cheese into the flour, and shake off any excess.

Add vegetable oil to a frying pan. When the oil is properly heated, place the cheese into the pan. Fry for a few minutes on each side. The cheese should look golden.

Remove the Saganaki cheese from the frying pan and plate. Sprinkle some Greek oregano and squeeze fresh lemon juice over the cheese. and serve immediately.
Nutrition
Serving:
1.5
oz
|
Calories:
158
kcal
|
Carbohydrates:
3
g
|
Protein:
11
g
|
Fat:
12
g
|
Saturated Fat:
1
g
|
Cholesterol:
42
mg
|
Sodium:
1
mg
|
Potassium:
37
mg
|
Fiber:
1
g
|
Sugar:
1
g
|
Vitamin C:
14
mg
|
Calcium:
7
mg
|
Iron:
1
mg
Nutrition Facts
Greek Fried Cheese – Saganaki
Amount Per Serving (1.5 oz)
Calories 158
Calories from Fat 108
% Daily Value*
Fat 12g18%
Cholesterol 42mg14%
Sodium 1mg0%
Potassium 37mg1%
Carbohydrates 3g1%
Protein 11g22%
Vitamin C 14mg17%
Calcium 7mg1%
Iron 1mg6%
* Percent Daily Values are based on a 2000 calorie diet.