It's getting to be that time of year for fresh and healthy salads! Today we want to show you How to Make Greek Salad the Cretan Way. What makes it different from other Greek Salads are the Barley Rusks. Also note, that typically Greek salads don't have a lot of greens in them. Salad greens found in Greece during the summer are sparse and vary from those found locally in the United States. We like making our Traditional Cretan Dakos Salad with arugula. Arugula has an earthy and peppery flavor with nuances of nuts and mustard.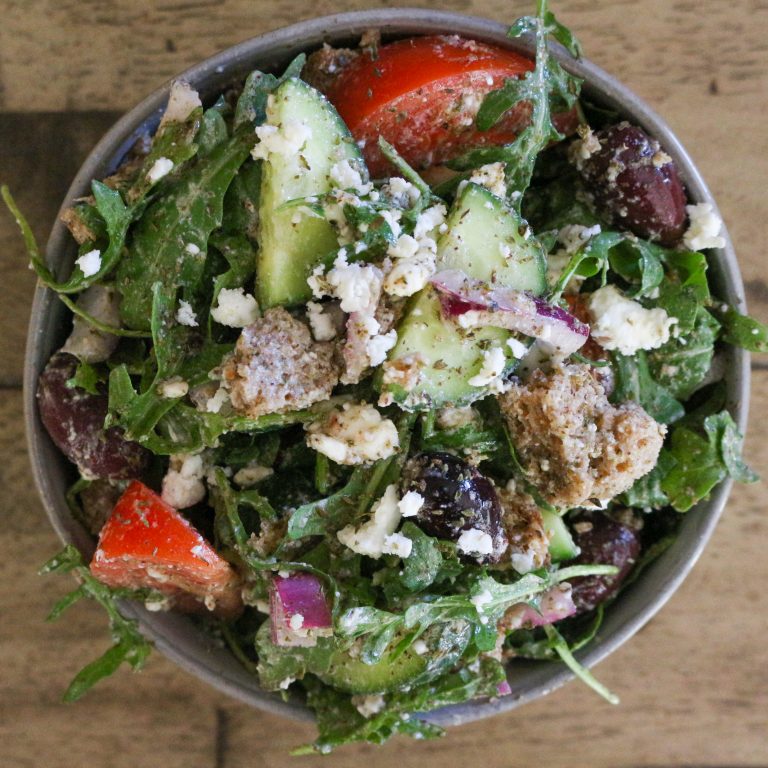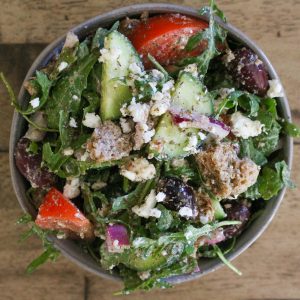 The ancient name for rusks was dipyritis artos, or "twice-baked bread."
Barley Rusks have been a staple of the Greek diet for thousands of years, before refrigeration or preservatives were available. It was a way of keeping bread for as long as possible when needed. The low moisture content of Barley Rusks eliminates the risk of spoilage, and therefore rusks don't contain any preservatives.
Traditional Greek Rusks are made with barley, which happens to grow better in the Greek climate and also contains less gluten than wheat.
Barley Rusks are a good source of vitamin B complex, selenium (assists with cognitive function and fertility), potassium, calcium, phosphorus, silicon (to help rebuild and protect bones), chromium (for better control of glucose levels in diabetics) and dietary fiber (especially beta-glucan, linked to lower cholesterol). Barley Rusks also aid in better intestinal and liver function and help reduce cellulitis.
HOW TO MAKE GREEK SALAD – THE CRETAN WAY
Prepare the ingredients for your dressing.


Blend the ingredients to create your dressing. Set aside.



Prepare your other ingredients for the salad. Then combine them all together in a large bowl.


Take your rusks, and quickly dip them into water. This will soften them up so that you can crumble them it into the salad.




Add all your ingredients to a bowl with the dressing, and enjoy!
WHERE CAN I FIND BARLEY RUSKS?
You can easily purchase Barely Rusks on Amazon and I will tell you it is well worth it. Barley Rusks are not easily available in the United States unless you are lucky enough to live near an International Store. They are flavorful, filling and healthy to eat. Alternatively, you can use any barley or whole wheat bread, cut into 1 inch slides and slow bake them in a 120-130 degree oven for at least 3 hours. You can make a loaf and store them for up to 6 months.
HOW LONG SHOULD I DIP THE RUSKS IN WATER?
Do not let the rusks soak up too much water or they will get soft and mushy. The purpose of the "quick dip" is to help break them up and prepare them for the salad.
How To Make Greek Salad – The Cretan Way Recipe
Ingredients
1/2

cup

extra virgin olive oil

Salad Dressing

1/4

cup

red wine vinegar

Salad Dressing

juice of one lemon

Salad Dressing

3

tbsp

greek oregano

Salad Dressing

1

tsp

sea salt

Salad Dressing

1

tsp

crushed black pepper

Salad Dressing

1/2

tsp

onion powder

Salad Dressing

1/4

tsp

basil

Salad Dressing

1/4

tsp

parsley

Salad Dressing

6

cups

arugula

2

cups

barley rusks

quick dipped in water and broken up

2

vine ripened tomatoes

cut up

1

english cucumber

unpeeled, sliced and cut in half

1/2

cup

red onion

finely sliced

16

kalamata olives

whole
Instructions
Measure and prepare all ingredients for Greek Salad Dressing.

Add all ingredients to a blender and blend for 30-45 seconds.

Measure and prepare all ingredients for the Greek, Cretan Dakos Salad.

Add all salad ingredients to a salad bowl.

Add the prepared Greek Salad Dressing and toss well. Serve immediately!
Nutrition
Calories:
242
kcal
|
Carbohydrates:
1
g
|
Protein:
1
g
|
Fat:
27
g
|
Saturated Fat:
4
g
|
Sodium:
583
mg
|
Sugar:
1
g
|
Iron:
1
mg
Nutrition Facts
Amount Per Serving
Calories 242
Calories from Fat 243
% Daily Value*
Fat 27g42%
Sodium 583mg25%
Carbohydrates 1g0%
Protein 1g2%
Iron 1mg6%
* Percent Daily Values are based on a 2000 calorie diet.